---
Deep Clean, Remove Blackheads, Shrink Pores
Introducing our Nose Pore Strips - it's your all-in-one solution! It deep cleans, removes blackheads and acne, and shrinks pores. Thanks to our enhanced formula, it also fights dryness, keeps your skin moisturized, and leaves you looking fresh, with a more youthful, elastic, and radiant complexion.

Special Offer: Buy 2 and Save 15% Off!
It hydrates your skin, making it smooth and soft. It gently, removes blackheads without harming your skin, and it helps prevent bacteria and inflammation.
Our product is unique! It starts as a thick substance but becomes a liquid-cream when warmed. It's packed with aloe extract, hyaluronic acid, charcoal, and purslane oil. It's great for deep cleaning, removing blackheads, and fighting acne while minimizing pores. It comes in a handy jar and includes nose patches in the set. Your skincare routine just got easier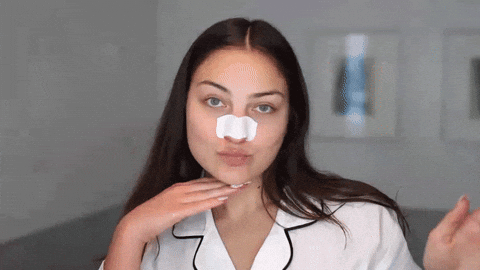 The recommended method to use our Nose Pore Strips:
Apply a thin layer to your nose (You'll get 60 pieces).

Place the paper over it.

Wait for 5-10 minutes until it dries, then peel it off.
Pore Treatment Serum
Get closer to glass-clear skin with our pore-minimizing serum! It's made with a special blend of witch hazel and centella asiatica, known for their pore-clearing and inflammation-reducing abilities. Plus, we've added green tea, packed with antioxidants to fight aging and damage. Achieve clearer, healthier skin today!
This serum is a game-changer for oily skin. It unclogs pores and minimizes their appearance. For optimal results, use it alongside your regular cleansing or exfoliating routine. Not only does it moisturize and protect your skin, but it also provides a thorough cleanse for those stubborn clogged pores.
Frequently Asked Questions: 
How long can I use it? - Depends on how much you use each time. If used once a week, it can last for 2-3 months.
How often should I use it? - It's recommended to use it once a week. If you have more blackheads, you can use it once every 3-4 days.
Can Men and Women use it? - Absolutely. It's suitable for both men and women.
Does the product really work? - Users have consistently provided positive feedback on this product. It effectively targets and eliminates stubborn blackheads, whiteheads, and excess oil while rapidly reducing the appearance of pores. It's your go-to solution for clearer, smoother skin.
This section doesn't currently include any content. Add content to this section using the sidebar.